Bluetooth speaker wireless charger IRUSU FUSION:
Introducing our newest addition to our product line IRUSU Fusion .these Bluetooth speakers are unique in the Indian market as we are the first major company to put forth a Bluetooth speaker which is also a fully functioning wireless charger. now you can listen to the music on the go with an enriching audio quality. This is going to be our flagship product for the coming year and Irusu has taken every possible measures precisely to give the users a hassle free enhanced audio experience
This Bluetooth speaker also acts as a wireless charger that you can use to charge your mobile wirelessly while at the same time listening to the audio. speaker comes with a QI enabled wireless charging facility.
Gone are the days where the life of the party were lanky and bulky speakers with countless wires spread all over the room. Now you can say goodbye to those days as Bluetooth speakers have taken over the traditional ones. Irusu is offering their latest entry Fusion for a valuable price for the Indian market. You don't have to worry about spending a fortune for our product you can get it for as low as 2999 and also don't forget this speaker also acts as a wireless charger for your mobile phone. You can now charge your phone wirelessly while at the same time playing music. Say goodbye to wires for once and for all.
Bluetooth speaker wireless charger  physical attributes :
IRUSU Fusion comes at a portable size of 7 inches in length and 3.5 inches in width(192mm,86mm) which makes it very easy to carry around through the day with ease. With 5 physical buttons provided on the front panel which consist an on and off button , wireless charging button, play/pause button and volume up and down.
CONNECTIVITY FEATURES :
IRUSU Fusion enables you to have an hands free caller experience with clear and crisp voice with minimal to no disturbance. You can connect various devices to Fusion like PC,laptop,macbook,MOBILE phone,tablet etc which makes it accessible to a wide range of devices.
SOUND Quality And Battery Time:
Our product uses a metal diaphragm unlike the cheap plastic diaphragm which doesn't last longer and ears of quickly. With the use of metal diaphragm the bass and reverb is enhanced and you don't have to worry about wear and tear anytime soon.
The charging time for Fusion is 5h .with that you can have an uninterrupted play time of more than 20h and also wirelessly charge your phone.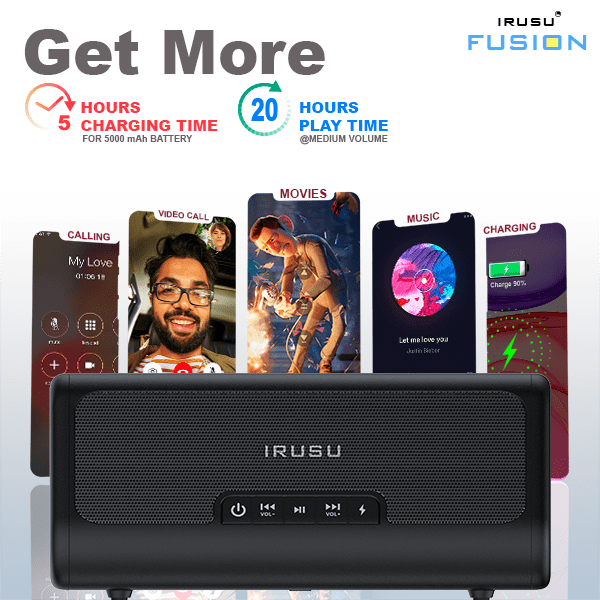 IRUSU fuison is the first of its kind in the Indian market and we have taken customer advics to carefully enrich their experience when designing this product.USE CODE IRUSU10 for a 10% on all our products purchased on our website