Top 3 best 3D VR Headset under 2000 rupees in india in 2023 for mobiles
| Product Name | Rating | Price | Offer |
| --- | --- | --- | --- |
| Irusu Monster VR | 4.6 | 2,099 /- | 10% Off |
| Irusu Play VR Premium | 4.5 | 2,099 /- | 10% Off |
| Irusu Mini VR | 4.4 | 1,499 /- | 10% Off |
Specifications of VR headsets
Type
3D VR Headset / VR Box
Highlights
VR Gaming, 3D Movies, Virtual tours
Compatible screen size
up to 6.69 inches
Compatible OS
Android , iOS
Warranty
3 Months
Availability
Official Website- Irusu (10% Off)
Other Platforms
Amazon & Flipkart
1) Irusu Monster VR
Virtual Reality 3D Glasses
Features of vr headset:
BIGGEST 42MM HD RESIN LENSES – Polarized, calibrated and Anti Fogging technology, Monster vr headset is more immersive, with larger FOV and reduced window effect.Perfectly calibrated lenses with tons of google VR apps, with our QR code, turn your mobile into a VR zone, with high light transmittance for superior and unmatched VR experience.
FREE REMOTE and MAGNETIC CLICKER: Now it cannot get better than this.We are bundling VR headset with a Free remote ( We are introducing a more advanced Bluetooth remote now ) and clicker for maximum compatibility. The remote can be used when mobiles don't have magnetometer and clicker when there is magnetometer on mobile. Even it can be used to connect to your other android or IOS devices and can be utilized for various tasks listed under manual.
NEW DESIGN – Design meets performance – Curved ergonomic design with stylish front bezel, super face foam protector, Human design Headstrap, the ideal heat dissipating design Ventilation with removable front tray, Bigger Side Slots are convenient for inserting earphone and charging, an Improved mobile holder for easy phone insertion.FULLY ADJUSTABLE LENSES: It is adjustable on pupil distance and objects distance with individual lenses for different eye sights.
2) Irusu Play VR Premium
with 42 HD Leans
✔️FULLY ADJUSTABLE LENSES: Now you can adjust pupil distance up to (62 – 74 MM) and object focus distance up to (34-44mm)
✔️PREMIUM QUALITY – Premium mesh cloth design adds a trendy look to Irusu Play VR Premium
✔️Advance Touch button:- Touch button helps the user trigger the actions in VR, for example, playing/pausing the video, to select next/previous videos.
✔️Compatibility: This VR headset is compatible with all VR-supported mobiles, which have a gyroscope sensor and mobile screen (up to 6.67 inches, 165mmx77mmx12mm).
✔️Irusu controller for navigation and gaming in VR, supported only for android.
✔️Remote Controller: It is not compatible with IOS and Samsung Galaxy series Mobiles.
✔️The picture quality depends upon mobile screen resolution, videos with high resolution (above 2K), and rightly done VR content.
Irusu Mini VR
: best VR Headset for 3D Movies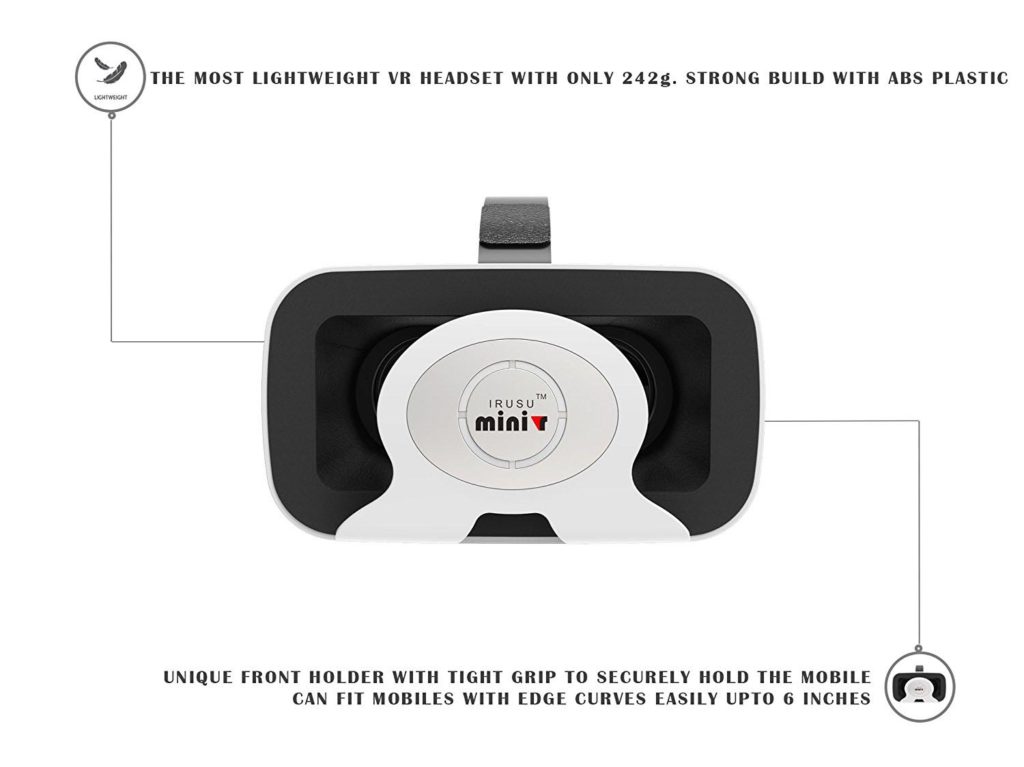 42MM Diameter HD OPTICAL LENSES: 5.2 fold Magnification for immersive VR experience, better FOV than most of the headsets available. use HD optical resin lenses, 8-layer nano-coating, 5 times polishing. Reducing deformity and glare, effectively preventing visual fatigue, restore 3D reality under the broad vision, reproduction lossless virtual reality world
Free blue tooth remote: Now it cannot get better than this.In our constant effort to give value to our buyers, we are offering free Bluetooth remote. Now our buyers do not need to buy any external controllers. It's a complete package.
Better results: It is adjustable on pupil distance and removed the object distance for better FOV. Short-sight suitable: 0-600°, can wear glasses when you use VR glasses.
Augmented Reality Compatible: Supports most of the mobiles for Augmented Reality due to the Unique Front Panel design.
COMPATIBILITY: The mobiles should have Gyroscope, accelerometer for head tracking. Hence if mobiles have these two sensors they can start using our VR headset.VR HEADSET THAT IS FUTURE COMPATIBLE WITH " ANDROID N " OS, WITH FUTURISTIC STATE OF THE ART INTERFACE.
Use The Coupon Code VR10 and Get Flat 10% Discount