What is QI ? :
Qi is a wireless charging technology used to wirelessly power electronic devices such as smartphones, tablets and wearable computing products. Qi, which is pronounced like "chee" and is taken from the Chinese word for "natural energy,with the technology advancing everyday.there is a shift in charging spectrum as more and more mobiles are deviating towards qi enabled technology for wireless charging
How does qi enabled wireless charging work?:
The Qi wireless charging standard enables inductive electrical power transfer over a maximum distance of up to 1.6 inches. A Qi Receiver, which is a mobile device compatible with the Qi standard, is placed on a Qi Sender charging station, which transmits power to the receiving device.


The following are the list of QI Enabled Phones :
| # | APPLE | # | APPLE |
| --- | --- | --- | --- |
| 1 | Apple iPhone 11 Pro Max | 8 | Apple iPhone XS Max |
| 2 | Apple iPhone 11 | 9 | Apple iPhone XS |
| 3 | Apple iPhone X | 10 | COMING SOON |
| 4 | Apple iPhone 8 Plus | 11 | COMING SOON |
| 5 | Apple iPhone 11 Pro | 12 | COMING SOON |
| 6 | Apple iPhone XR | 13 | COMING SOON |
| 7 | Apple iPhone 8 | 14 | COMING SOON |
| # | SAMSUNG |   | SAMSUNG |
| --- | --- | --- | --- |
| 1 | Samsung Galaxy Note10+ | 10 | Samsung Galaxy S10e |
| 2 | Samsung Galaxy S10 | 11 | Samsung Galaxy Note10 |
| 3 | Samsung Galaxy S5 | 12 |  Samsung galaxy note 8 |
| 4 | Samsung Galaxy S6 edge | 13 | Samsung Galaxy S7 edge |
| 5 | Samsung Galaxy Note10+ 5G | 14 | Samsung Galaxy S7 |
| 6 | Samsung Galaxy Fold | 15 | Samsung Galaxy Note9 |
| 7 | Samsung Galaxy S8 | 16 | Samsung Galaxy S9 |
| 8 | Samsung Galaxy S10+ | 17 | Samsung Galaxy Note8 |
| 9 | Samsung Galaxy note 7 | 18 | Samsung Galaxy S6 |
| 19 | Samsung Galaxy Note5 | 20 | Samsung Galaxy Watch Active2 |
| 21 | Samsung Galaxy Fold 5G | 22 | Samsung Galaxy S10 5G |
| 23 | Samsung Galaxy S8+ | 24 | Samsung Galaxy S9+ |
| 25 | Samsung I9500 Galaxy S4 | 26 | Samsung Galaxy S6 edge+ |
| # | XIAOMI MI | # | XIAOMI MI |
| --- | --- | --- | --- |
| 1 | Xiaomi Mi 9 Pro 5G | 7 | COMING SOON |
| 2 | Xiaomi Mi 9 Pro | 8 | COMING SOON |
| 3 | Xiaomi Mi Mix 3 | 9 | COMING SOON |
| 4 | Xiaomi Mi Mix 3 5G | 10 | COMING SOON |
| 5 | XiaomiMi 9 | 11 | COMING SOON |
| 6 | COMING SOON | 12 | COMING SOON |
| # | HUAWEI | # | HUAWEI |
| --- | --- | --- | --- |
| 1 | Huawei Mate 30 | 7 | COMING SOON |
| 2 | Huawei P30 Pro | 8 |  COMING SOON |
| 3 | Huawei Mate 30 Pro | 9 |  COMING SOON |
| 4 | Huawei Mate 30 Pro 5G | 10 |  COMING SOON |
| 5 | Huawei Mate 20 Pro | 11 |  COMING SOON |
| 6 | Huawei Mate 30 RS Porsche Design | 12 |  COMING SOON |
| # | GOOGLE PIXEL | # | GOOGLE PIXEL |
| --- | --- | --- | --- |
| 1 | Google Pixel 3 | 7 | COMING SOON |
| 2 | Google Pixel 3 XL | 8 | COMING SOON |
| 3 | Google Pixel 4 | 9 | COMING SOON |
| 4 | Google Pixel 4 XL | 10 | COMING SOON |
| 5 | COMING SOON | 11 | COMING SOON |
| 6 | COMING SOON | 12 | COMING SOON |
| # | LG | # | LG |
| --- | --- | --- | --- |
| 1 | LG V30 | 7 | LG G8S ThinQ |
| 2 | LG G7 ThinQ | 8 | LG V50 ThinQ 5G |
| 3 | LG V50S ThinQ 5G | 9 | LG G4 |
| 4 | LG V40 ThinQ | 10 | LG G8 ThinQ |
| 5 | LG G6 | 11 | COMING SOON |
| 6 | LG G8X ThinQ | 12 | COMING SOON |
| # | SONY | # | SONY |
| --- | --- | --- | --- |
| 1 | Sony Xperia XZ2 | 7 | COMING SOON |
| 2 | Sony Xperia XZ3 | 8 | COMING SOON |
| 3 | COMING SOON | 9 | COMING SOON |
| 4 | COMING SOON | 10 | COMING SOON |
| 5 | COMING SOON | 11 | COMING SOON |
| 6 | COMING SOON | 12 | COMING SOON |
| # | HONOR | # | HONOR |
| --- | --- | --- | --- |
| 1 | Honor V30 Pro | 13 | COMING SOON |
| 2 | COMING SOON | 14 | COMING SOON |
| 3 | COMING SOON | 15 | COMING SOON |
| 4 | COMING SOON | 16 | COMING SOON |
| 4 | COMING SOON | 16 | COMING SOON |
| 4 | COMING SOON | 16 | COMING SOON |
| # | RAZER | # | BLACKBERRY |
| --- | --- | --- | --- |
| 1 | Razer Phone 2 | 13 | BlackBerry Priv |
| 2 | COMING SOON | 14 |  COMING SOON |
| 3 |  COMING SOON | 15 |  COMING SOON |
| 4 |  COMING SOON | 16 |  COMING SOON |
| 4 |  COMING SOON | 16 |  COMING SOON |
| 4 |  COMING SOON | 16 |  COMING SOON |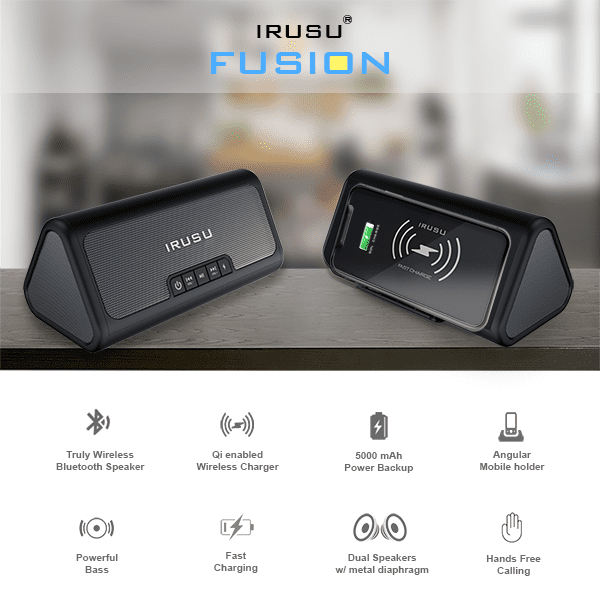 Irusu Bluetooth speaker comes with qi enabled charging port which lets your charge your qi enabled mobile wirelessly.this unique feature is first of a kind in Indian market in Bluetooth speaker segment.now go and get your Bluetooth Speaker and experience a new sound