1. I have a 6.5 inch mobile. Does it fit in Irusu VR headsets ?
Mobile screen sizes are ever changing with different form factors and we at Irusu are constantly upgrading our headsets to
suit different mobile needs.
Any mobile that comes under body dimensions 170 x80 x 12 MM, would Fit In, irrespective of screen size ( Please make sure you do
not use very bulky mobile covers )
2. What is the use of Remote ? Do I need it ?
Remote is an additional handy controller for VR Apps that make use of its functions like SachinSaga VR game, Hardcode VR,
Youtube Media control and so on.
It can also act as a trigger button for VR headsets, that do not have touch buttons.
But it is not required for every VR app, as some of them does not require a controller and works with gaze control within app.
Apart from VR apps, one can use remote for iCade games, can connect to their laptops as a controller or to a compatible TV box.
Its multipurpose.
iPhone users have very limited use of remote.
3. Why I see  Double Images?
All the VR content gets divided into two halves.The user should align the middle line of VR headset with the center line of
mobile as shown in manuals.Then adjust IPD and Focal distance as per their vision clarity. users can use normal spectacles with VR ( with very few exceptions for wider frames )
4. Why I see a pixelated Video ?
The VR experience  depends on the Mobile Screen Resolution and content resolution. Make sure your mobile device has QHD resolution ( with minimum 400 ppi or more ) and Try to increase the video resolution to maximum ( minimum 2K resolution wokrs well for normal video and 4K for 360 videos ). Use a good internet as low bandwidth gives a very bad VR expereince.
5. My lenses get foggy.What should I do ?
Due to the heat generated by mobile phones inside VR headset, we normally recommend to remove the front lid ( removable ) to
dissipate the heat. One needs to clean the lenses with soft cloth provided.
6. What are HD Resin lenses ?
The lenses are made from Resin material instead of cheap plastic. The lenses have higher transmittance than normal plastic and
has longer shelf life.They have anti blue ray protection coat.
Lens scratches with thin hair lines, do not effect VR experience due to lens quality and lasts much longer.
7. What is the warranty ?
Irusu covers full warranty on the headsets against  manufacturing defects and offers  a very quick and amiable response.One can register their warranties on our website. For more information visit our product page information
8. Where do I start using VR ?
Right now, VR ecosystem has grown so big that one has infinite choice of VR Apps that keep updating every day. A good start would be to use Irusu VR Zone app from playstore and from there one can search other websites for desired content under education, virtual experiences, Streetviews, 360 videos, adult content and so on.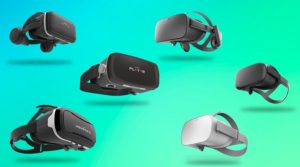 The best way to handle bulk VR headsets is to follow a reliable guide. Managing a large number of VR headsets is a bit challenging, and if you don't have a plan in place, you may end up spending your time and budget on the wrong activities.VR will play a significant role in continued business
Read More »